January 26. The day we call Australia Day. A day that marks the British colonisation of Australia. A day that also marks the start of centuries of genocide, dispossession, oppression, trauma and mourning for the traditional owners of our land.
Bianca Hogeveen, Young Democrats
Taking a quick look at the date's history, you find that it really is just that; quick. It has only been a public holiday since 1994, the year before the High Court overturned the doctrine of Terra Nullius. Before 1994, Australia Day was held on the Monday closest to January 26 because if there's one thing Australians love, it's an excuse for a long weekend.
Australia's attitude towards January 26 is rapidly changing, with the largest differences noted across the various generations. In 2017, Triple J moved it's infamous Hottest 100 away from January 26 after consultation with Indigenous bodies, including Reconciliation Australia and the National Congress of Australia's First Peoples, and a poll of 65,000 listeners which found that 60% supported the change.
A survey from the Social Research Centre asked over 2,000 people whether January 26 is the best day for our national day of celebration found that support for celebrating Australia Day on January 26 increases with age.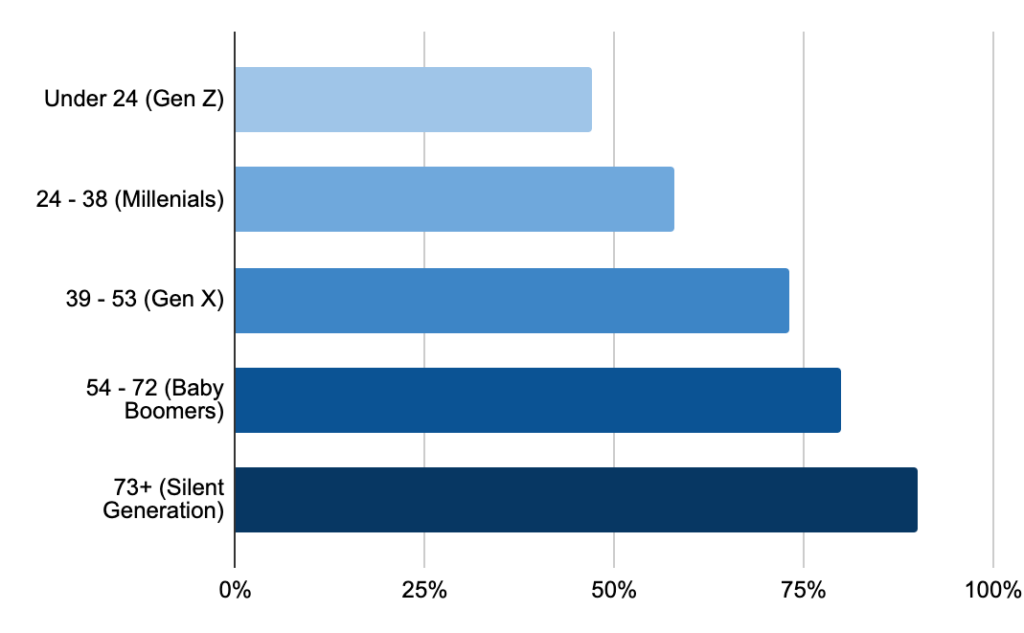 This table illustrates the extent to which the respondents agreed to keeping Australia to January 26.
Source: Social Research Centre
Other demographics which were more likely to support a change to the date were women, those with a university degree, residents of capital cities and Victorians.
Attitudes amongst corporations, businesses and organisational bodies have also shifted. Bodies like Cricket Australia who decided to not acknowledge "Australia Day" in their January 26 matches and BBL promotional material. This decision came after consultation with their Indigenous advisory body with a focus on normalising conversations around the day and has been supported by Big Bash players.
Co-chair of Cricket Australia's National Aboriginal and Torres Strait Islander Cricket Advisory Committee and former Australian Test and ODI player, Mel Jones, noted that when it comes to sport and cricket, "We don't get a choice to be whether to be a role model in sports these days, but you do get the choice to be a good one or a bad one."
When asked about the decision on radio, PM Scott Morrison very clearly expressed his point of view: "A bit more focus on cricket and a little less focus on politics,". He also went on to say that it "…wasn't a particularly flash day for the people on those vessels either."
This whitesplaining logic is invalidating and just one of the countless examples of the Coalition's failure to pause, reflect and listen to the voices of who these issues affect the most.
In an opinion piece for The Guardian, Greens Senator and Gunnai-Gunditjmara woman Lidia Thorpe said;
"When Aboriginal people speak up about the realities of colonisation, we've almost come to expect casual racism, collective amnesia, and a denial of this country's history."
Disappointment and anger has also been felt amongst First Nations people with the government's failure to deliver on the Uluru Statement from the Heart which called for a Voice to Parliament and recognition of Indigenous Australians to be enshrined into the constitution.
Leadership is a precious thing. And yet, it's something the Prime Minister continues to disrespect. His inability to acknowledge and accept the tides of change amongst his constituents speaks to the intellectual dishonesty which plagues the rest of his party.
There is still so much that should be done to address the entrenched racism which is pitted against First Nations people; namely overrepresentation in the criminal justice system, mental health and child protection. Indigenous Australians deserve more than tokenistic changes to dates, flags and anthems. However, these moves can also represent overdue discussions and sociocultural shifts surrounding our identity as a nation.
Not only are these moves overdue but, as illustrated in the graph, they are inevitable. Less than half of people under 24 still want to keep January 26 as the day we celebrate our nation. Moreover, three of the four main Australia Day honours were awarded to a diverse group of relatively young women.
Whether Morrison likes it or not, people are waking up and listening. He cannot keep adding layers to his wall of denial where the tides of change lap at the edges.
Although young people stand on the shoulders of giants, we are the first to see new horizons and opportunities for positive change. Which is why we're angry.
The perspectives of young people have been ignored on practically every matter that directly affects our future – especially climate change – and it's infuriating.
Gen Z and Millenials are often told we are the more selfish of generations (speaking from personal experience here). But is it not equally as self-serving and uncaring to ignore the cries of people who wish to seek reconciliation and a better future?