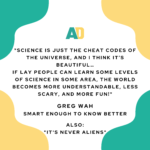 Greg Wah, science communicator extraordinaire and co-host of the immortal-in-podcast-years Smart Enough to Know Better podcast joined Elana and Steve to yell at them about science, why it's awesome and why humanity will one day be aliens roaming the galaxy showing other life forms pictures of their colonising feline overlords.
We also talked about politics.
Show Notes
Can't get enough of Greg shouting about science? Listen to him shout on the Smart Enough to Know Better podcast!
Greg also talked to Anton and his dad on the Curiosity of a Child podcast.
You can follow Greg and SE2KB on Twitter.
Find out more about the Square Kilometre Array that Greg totally built by himself and the very exciting James Webb Space Telescope.
Rick Morton's stories on Dr Kariko and her quest for the MRNA messaging breakthough are here (part 1) and here (part 2).