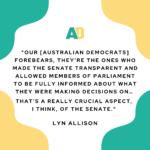 On the eve of an election, Steve and Elana find themselves with questions about the Senate, and how it works.
Luckily, former Senator and National President Lyn Allison is on hand to explain the purpose, power and privilege of the Senate, and what it's like to be an Australian Senator.
Show notes:
Make sure you're enrolled to vote before 8pm Monday April 18 2022!
Update your details with the AEC, or check your enrollment.
Found Lyn's description of the Senate count confusing? Don't worry, it IS confusing!  But the AEC has great explainers on how to vote, how preferences work, and how counting votes happens.