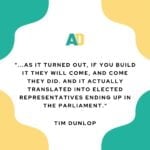 Tim Dunlop is a writer, researcher, speaker and thinker, who's written extensively on grassroots democracy and the role of the media, as well as technology and the future of work.
In December 2022 his fourth book, Voices of Us, was published. At the 2022 federal election Australia voted not just for a new government, but for a re-alignment of the way in which our political system works. Voices of Us is a book about how that happened. 
He joins Elana Mitchell and Steve Baty to discuss Voices of Us and the deep shift in Australian politics that occurred at the 2022 Federal election, and how it had been building for decades.
Show Notes:
Want to read Tim's work? Buy Voices of Us with a special discount! His other books, including the Future of Everything, are also available through Booktopia.
Follow more of TIm's work on his substack The Future of Everything.
Want to help us contest state elections across the country? Join us or donate to us.