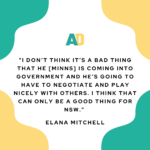 It's just as well Elana and Steve committed to completing their review of the NSW state election after the results were finalised, because their second thoughts on the NSW state election ended up a bit different to their first thoughts!
There were a few upsets as the results were confirmed, with the new Labor government's expected seat count dropping from as high as 50 seats to the 45 seats that were called for them on the night.

Join Elana and Steve as they finally get to have a proper chat about the NSW state election.

Show Notes:
In WA or Qld and want to help us contest their state elections? We need 500 members in each of those states to register at state level. You can join for free here.