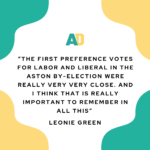 When Speaker of the House Milton Dick scheduled the Aston by election for April 1st we're sure that April Fools Day was the furthest thing from his mind.  He made it very clear that the people of Aston should be without representation for as short a time as possible after Alan Tudge's resignation from parliament, which is why the lead time for the by election was considered to be shorter than usually expected.
The result of the by election, where Labor's Mary Doyle finished the job she started in the 2022 Federal election and whittled Tudge's margin down past nothing and into a 7% margin in her favour, meant that the joke was very much on the Liberal party. For the first time in more than a century, a government has increased their majority at a by election by taking a seat from their opposition.
Leonie Green, our lead Senate candidate for Victoria in the 2022 Federal election joins us to chat about the remarkable result in the Aston by election and give us her insights on the political environment in her home state.
Show Notes
Tim Dunlop discusses the structural decline of the Liberal Party after the NSW state election and the Aston by election, and touches on the challenges the media is facing in their assumptions here.