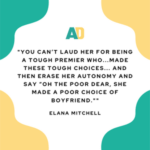 On Friday 1st October 2021 NSW Premier Gladys Berejiklian suddenly resigned both from her role as Premier and as a member of the NSW parliament after the Independent Commission against Corruption announced that they were opening an investigation into whether she had breached the public trust during her dealings with her then secret boyfriend and corrupt former MP Daryl Maguire.
National vice presidents Steve Baty and Elana Mitchell got together to discuss what led to Berejiklian's downfall, and the different standards of accountability between state and federal governments that her resignation has revealed.
Show Notes:
Accountability platform – more than just an ICAC!
Want to vote for us in the upcoming election?  Help us retain our registration by joining us