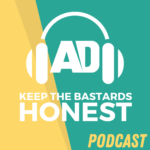 On this episode National Vice President and podcast host Elana Mitchell talks to Young Democrats Rhiannon Kernot (no relation) and Bianca Hogeveen about what politics means for young people, and particularly young women, in Australia, and the issues that young people are passionate about. Hint: it's much more than climate change.
They also break down what's involved with being a Young Democrat, the importance of bringing young voices to the table, and why youth representation matters at all levels of government.
Do you know someone who should become a Young Democrat, or would you like to become one? If you're aged between 16 and 24 you can join the Young Democrats and help advise the party on the things that are important to your generation.

If you're older than 24 you can become an "older" Democrat! Join us here
Show Notes:
Want to keep up with our events? Our next event will be National President Lyn Allison in conversation with former Supreme Court Justice Stephen Charles on the issue of accountability in politics, which, given the current shenanigans in federal politics, should be fascinating and timely. Keep an eye on our What's On page for dates and to purchase tickets.
In the wake of Parliament's #MeToo moment in March 2021, Bianca Hogeveen wrote a powerful piece on the dichotomy of calls for more women to enter politics and make politics more representative, even as the inherent hostility to women within our politics was revealed. You can read it here.