Chris Simpson is standing for the seat of Fadden for the Australian Democrats, motivated by the urgent need to restore accountability, listen to local voices and demand evidence-based policy. He is committed to fighting corruption and representing the interests of the people of Fadden in Parliament.
His focus for this election is affordable housing, a stronger economy and smarter, self-sufficient defence and greatly reduced emissions. Check out our plan and this site for more information.
Chris was previously a licensed builder and a member of Master Builders Queensland. He attained a Masters of Project Management from QUT. Chris has managed major Australian construction projects and has extensive real-world experience.
---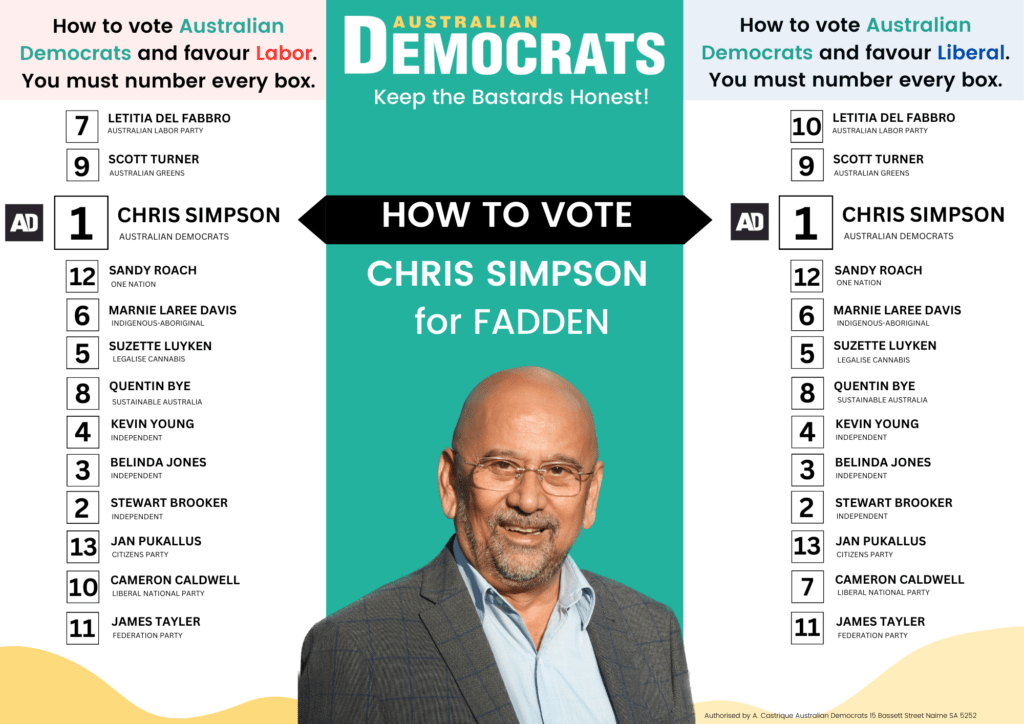 Support our campaign in Fadden by donating or joining our movement as a member today! You can contact us below, if you want to volunteer or ask a question about Chris and the Australian Democrats.
Thursday 29th of June: Chris Simpson and the team had great conversations with members of the community and distributed how to votes to Fadden residents who wanted to vote by post.
Friday 23 June: Chris Simpson attended the AEC Ballot Draw – Australian Democrats placed third on the ticket.
Sunday 25 June Onwards: Chris and the team speaking to the residents of Fadden in person, and maintain a presence at train stations. Quote of the day: Great to see the Democrats back again. Good luck!
Sunday 2 July: Chris and team set up corflutes around the Helensvale Seniors Club and Runaway Bay Community Centre ahead of the first day of voting. Getting a good response! Quote of the day: Sick of the majors. No care, no shame. I missed you guys.
Monday 3 July: The team were out in force on the first day of Pre-Poll, and received an outstanding response from the people of Fadden. Media update: Chris was featured on the cover of the Gold Coast Bulletin's by-election story. Quote of the day: Wow, you're still around? Keep the Bastards Honest, I missed you guys!
If you have a question or would like to volunteer, click here to contact us. A member of our team will be in touch.