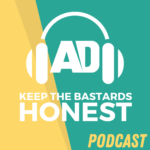 Women for Election is an organisation whose mission is to inspire, equip and sustain women to successfully stand for, and thrive in, public office in Australia.
On this episode Elana Mitchell and Leonie Green chat to inaugural CEO of Women for Election, Licia Heath. Licia is dedicated to inspiring and equipping more women across the country to run for public office at the local, state or federal level. Licia ran in the 2018 Wentworth by-election, triggered by Malcolm Turnbull's resignation, and helped shape the national political debate, with the eventual winner of the by-election, Kerryn Phelps, adopting a number of the policy positions Licia ran on.
In addition to training women to run for office, Licia is also focused on engaging more women in Australia's political process and educating them on the various roles they might like to take to help another woman get elected. 
Women for Election has gone from strength to strength over the last few years, recently winning a $5 million grant from the federal government to expand their programs to train thousands of women to run for office, and create a "campaign in your pocket" app to assist candidates.  As you'll hear in the episode, Licia is very excited to be delivering an incredible free resource to prospective candidates and their supporters to help them with their campaigns.
Show Notes
Get involved, support or register for a training course with Women for Election here.
Article from the West Australian on WFE, featuring alumni Elana Mitchell!