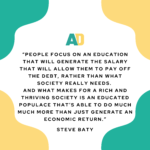 Listener questions answered! This is a new listener requested segment where we answer your questions about Australian politics, government or even the Australian Democrats that you really wanted to know but didn't know who to ask.

Our inaugural question is on student debt: is there anything that the government could do to fix it or is it unavoidable?
Over to our podcast hosts, Elana Mitchell and Steve Baty to find out!