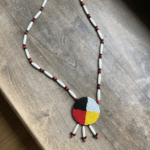 This is a story about colonisation, racism, and genocide. It's a story about erasure, not just of a culture, but of an entire people. But it's also a story of survival. And it's a story about love. It's a story about a woman who abandons her people, flees her home, her ancestors, her culture, and her heritage, who denies her own identity, right down to her own name, in order to protect her child from the government of her own country, a government that had an official policy to erase her people.
It's also a story about her descendent. And his journey through his own family history, to uncover what she hid, and reclaim the culture and the heritage that his great grandmother surrendered in order to ensure the survival of her family.
This is the extraordinary story of Captain Jason Lambright. He is Native American, of the Mendota Dakota Sioux tribe. He's spent the last few years uncovering 220 years worth of family history in which successive governments of his country, a country that he served with distinction, tried to exterminate his ancestors.
In the lead up to the referendum on the Voice, the parallels between Australian history, our First Nations peoples' fight for recognition, and the history of the United States, and the experiences of Native Americans, and in particular Jason's family, became too strong to ignore.
Jason has very graciously joined the podcast, to talk about his family history, and to talk about First Nations recognition from the perspective of a First Nations person from the other side of the world.
Show Notes
There's a lot to explore in this episode!
All things Jason Lambright
Let's start with the traditional owners of Jason's home in Ohio, the Mingo people, and their predecessors, the Mound Builders. Their culture and their people were annihilated by disease in the 1700s, but they are not forgotten.
And then Jason's tribe, the Mendota Mdewakanton Dakota of the Sioux Nation, who are Minnesota's First People
Jason's blog, the Interstellar Valley
Keep up to date with, or support Jason's writing through his Patreon
Buy Jason's books in Australia, the United States, or the UK
Jason was also interviewed and contributed to this book, Mendota Dakota: Erasure and Recognition. There's a chapter that covers his family history.
Hang out with Jason, Elana and the crew at John Birmingham's blog and Patreon, and buy World War 3.1
The medicine wheel that Jason references in the podcast
History comes knocking
Custer's last stand (Battle of the Little Bighorn)
Forced displacement of Indian tribes west of the Mississippi
Treaty of Mendota (broken by the US government)
Black Elk's Seventh Generation Prophecy
History that's closer to home
First Nations slavery in Australia
Modern Day Campaigns for Justice and Sovereignty
Dakota Access Pipeline Protests (Standing Rock Sioux)
Recognition of the Mendota Sioux
Uluru Statement from the Heart
Native American pop culture
The movie (turns out it was a mini series) that Elana referenced in regard to General Custer is Son of the Morning Star. There's a low res version on Youtube if you want to watch it.
Other films and shows that feature Native Americans historically or in the present day are:
The granddaddy of them all Dances With Wolves
Here's a list of documentaries about Native American experiences, many of which were referenced in the podcast, and where to stream them